A striking architectural masterpiece, standing proud on the London skyline.
This award-winning building encapsulates our vision for the residential district of Canary Wharf and our commitment to bring only the finest waterside residences to London.
Designed by Herzog & de Meuron and characterised by three distinct typologies, select your slice of individuality from an impressive 484 apartments in one of the UK's most striking residential towers.
Video courtesy of The Penthouses at One Park Drive, click here for more information and to explore these extraordinary spaces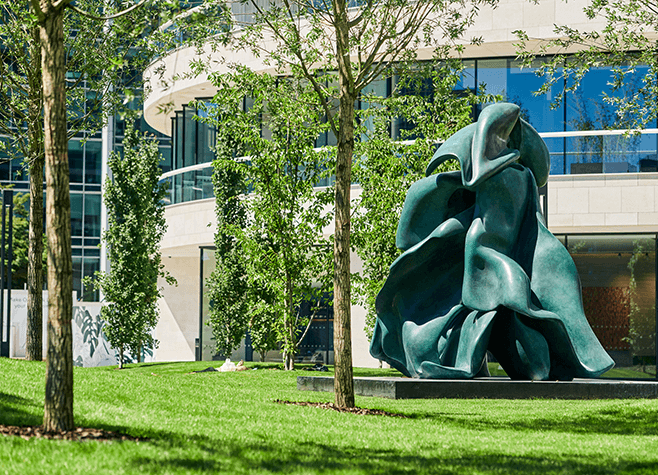 Lower floor loft apartments offer generous wrap around terraces, designed to echo the sweeping boardwalk and maximise the connection to the water.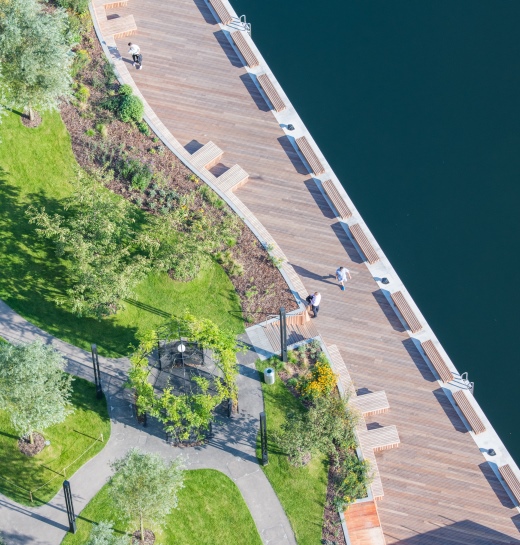 Cluster apartments at the heart of the building afford both views of the landscaped parks and overlook the meandering river Thames.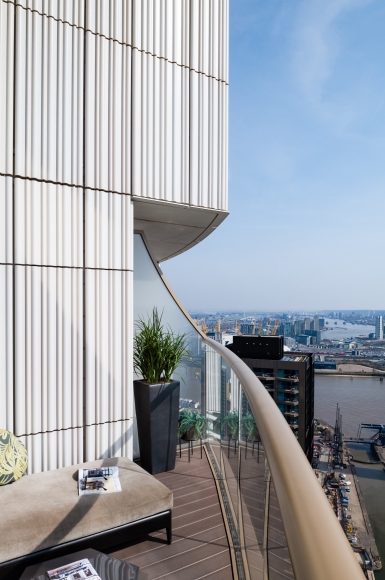 Bay apartments on the upper floors are flooded with natural light and offer expansive sky views via impressive double height terraces.
Connected to the Landscape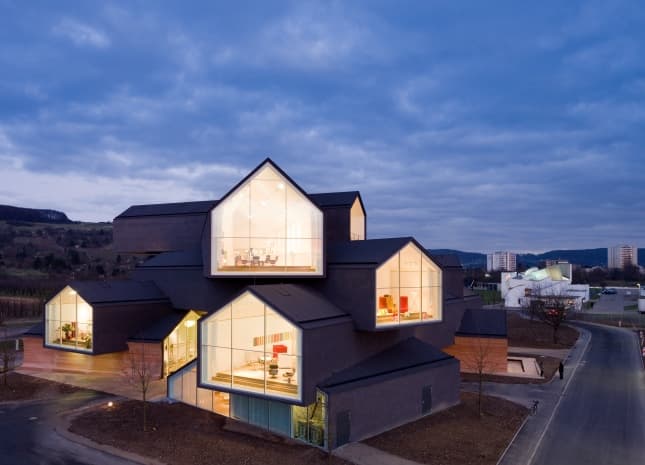 Swiss architects Herzog & de Meuron are one of the most highly respected architectural practices in the world.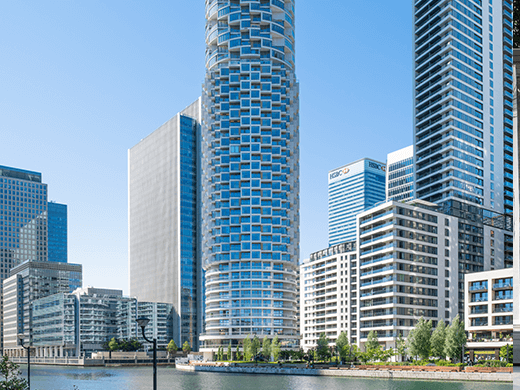 One Park Drive is the first residential development designed by Herzog & de Meuron in the UK.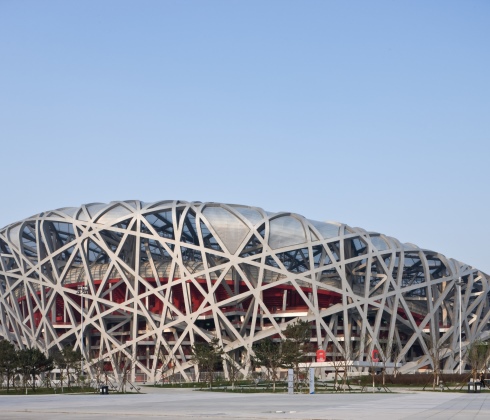 Pritzker prize-winning projects include conversion of the Tate Modern and Beijing's Olympic 'bird's nest' stadium.
The Architects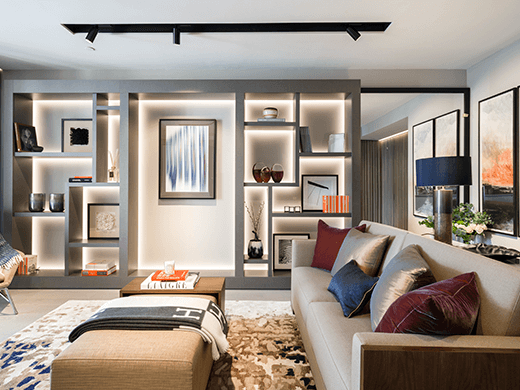 Apartment interiors are rich and diverse, offering unique layouts and typologies within three distinct building zones, all featuring natural materials and finishes throughout.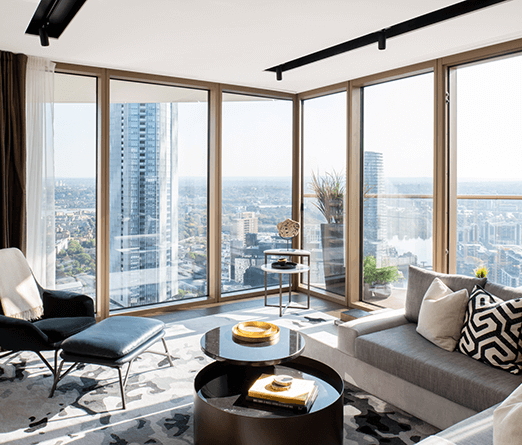 Bay and Cluster interiors, designed by Goddard Littlefair, focus on calm and elegant features, including exposed concrete walls, timber panelling, pivot doors and natural stone.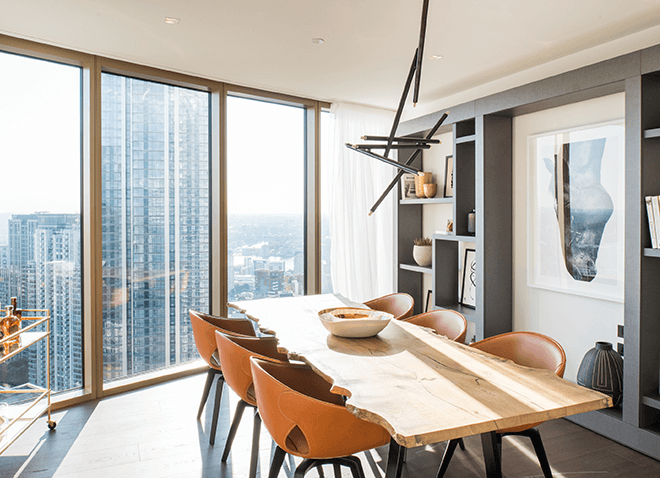 Loft interiors created by Bowler James Brindley, offer a sense of luxurious intimacy, with seamless resin floors, sculptural bathrooms and curved ceiling profiles.
The Interiors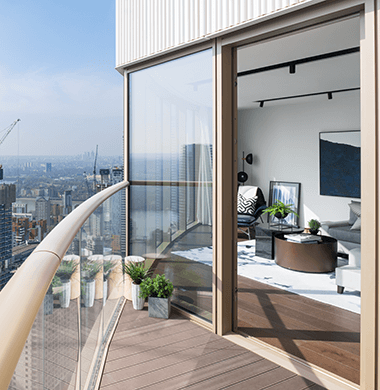 Alongside Architect of the Year, One Park Drive was crowned Development of the Year at the British Homes Awards 2021.
One Park Drive was awarded prizes in the Best Apartment and Best Residential Development awards at the International Property Awards 2021.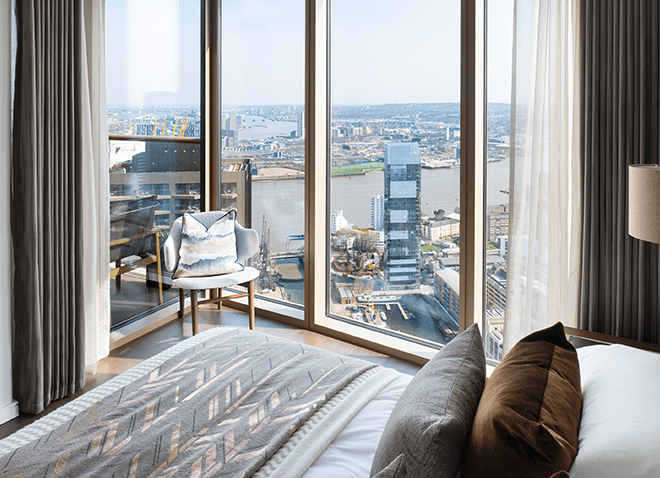 Awarded Best Luxury Development in the 2021 WhatHouse? Awards, this building has made its mark on London's skyline.
Award Winning
Skip Scroll
Amenities
Swimming and Hydro Pool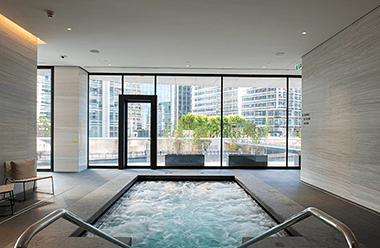 Surrounded by floor to ceiling windows, flooding the space with natural light
The 20m swimming pool and spacious 12-person hydro pool are surrounded by a relaxation area with seating and loungers. Residents will also have access to a large furnished outdoor terrace overlooking the dock.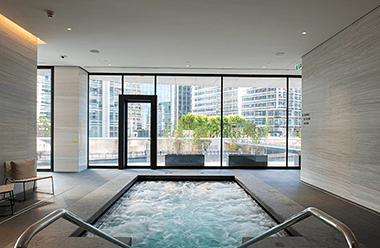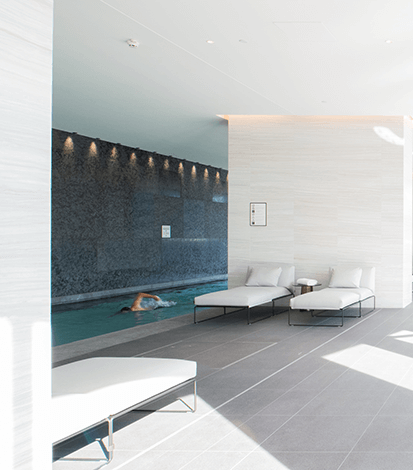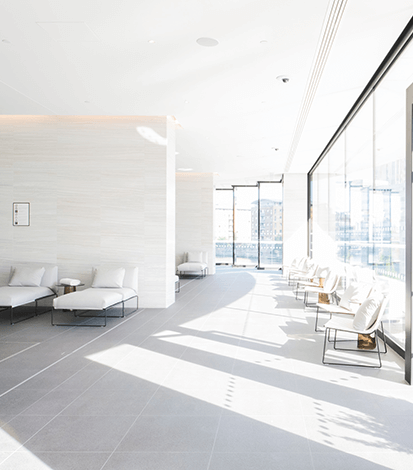 Sauna and Steam Room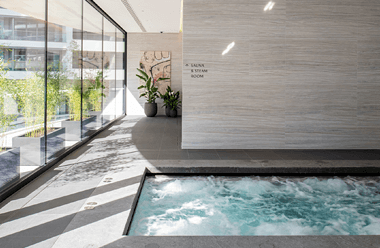 Directly accessible from the pool area, to enjoy as part of your wellness regime
This space is finished with calm interiors, plus the latest temperature control technology. These facilities can be tailored to your exact requirements offering a truly luxurious experience.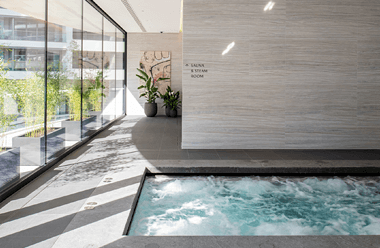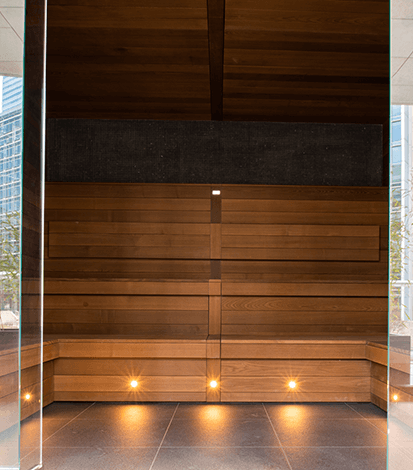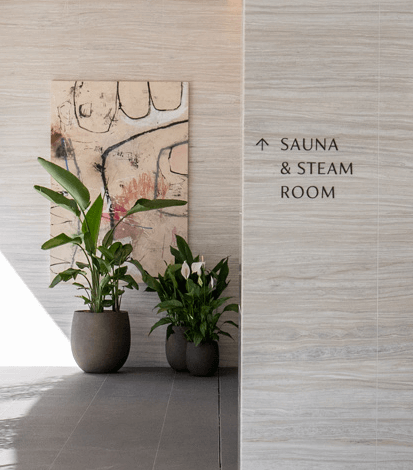 Gym and Workout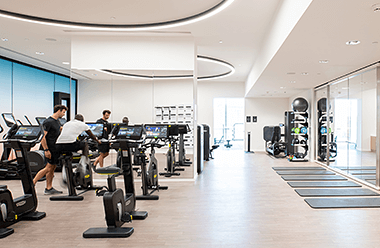 A fully equipped gym with state-of-the-art facilities
Weight or cardio-based exercise, alongside generous open floor spaces for personal training, online workouts or classes with fellow residents. Overlooking the residents' garden, this generous gym space does not disappoint.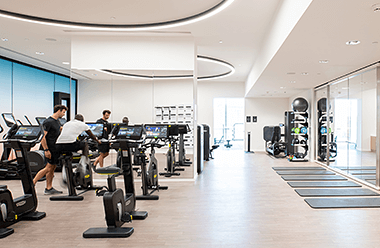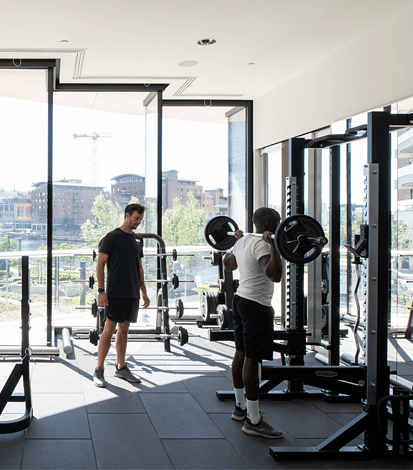 Cinema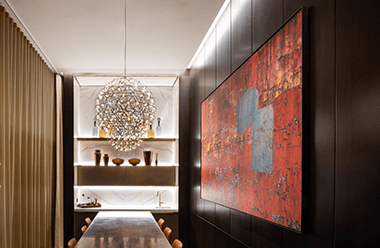 A large luxurious cinema room that seats up to 16 people is available for residents to hire
To the rear of the cinema room, you can access a stylish private bar – also accessible via the boardwalk – making this space perfect for socialising, parties and private entertaining.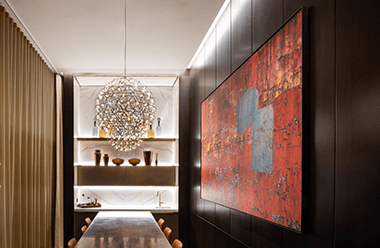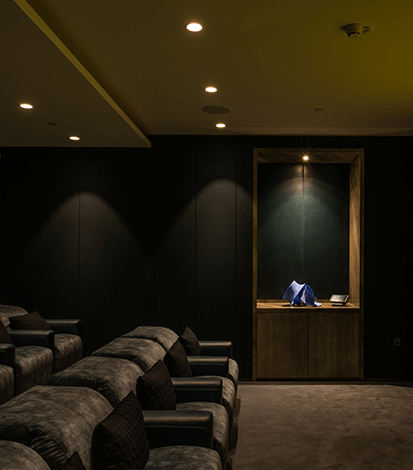 Residents' Lounge
Located just off the lobby, overlooking the boardwalk and dock
The residents' lounge comprises low tables and relaxed cosy seating providing the perfect place to take time out or catch up with friends, especially alongside the offering of complimentary coffee and wine.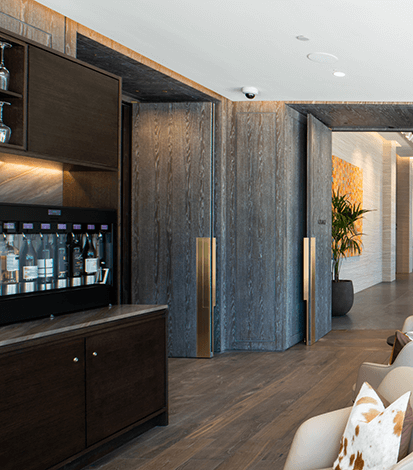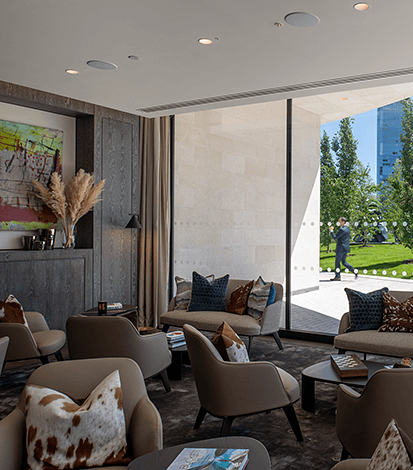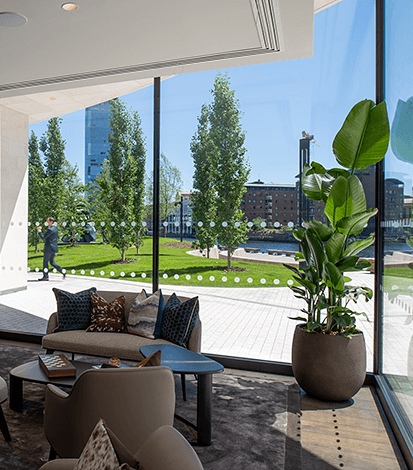 Library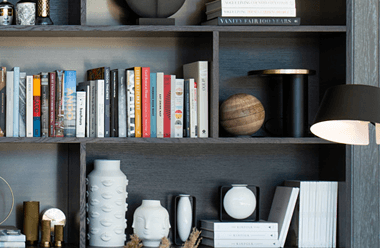 The library is a tranquil space to work or just grab some time out
With views over the boardwalk, this hidden enclave is a peaceful haven. Surrounded by tall cabinetry, rich leather sofas complement the refined interiors – it's the ultimate in luxury downtime.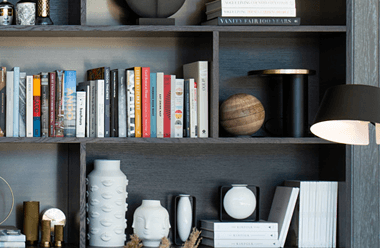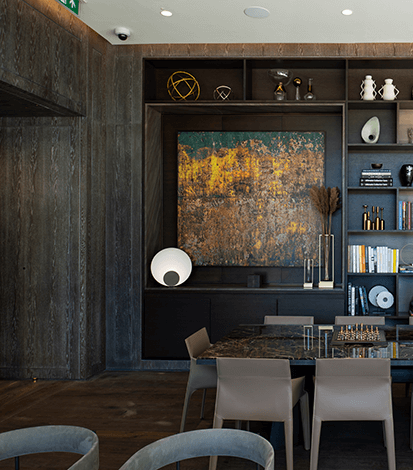 Concierge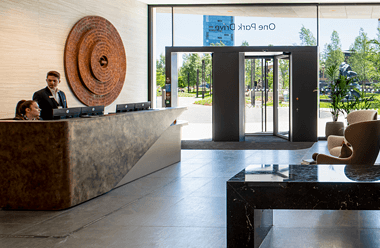 Available 365 days a year 24/7
The Concierge team is there to support you with everything from taxi booking to dry-cleaning and deliveries to maintenance. Employed directly by Canary Wharf Group, the team has an intrinsic understanding of the estate and can get matters resolved quickly and efficiently.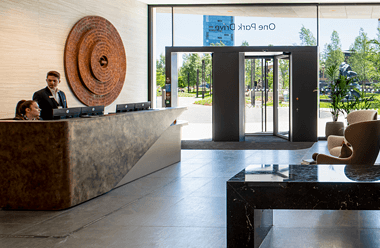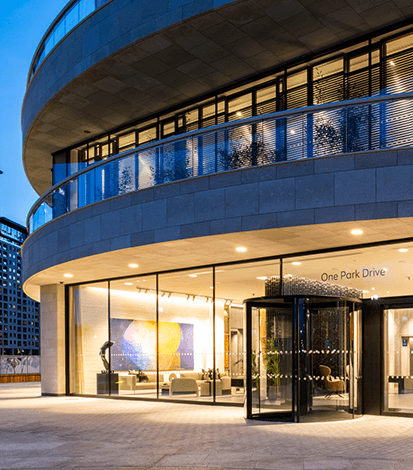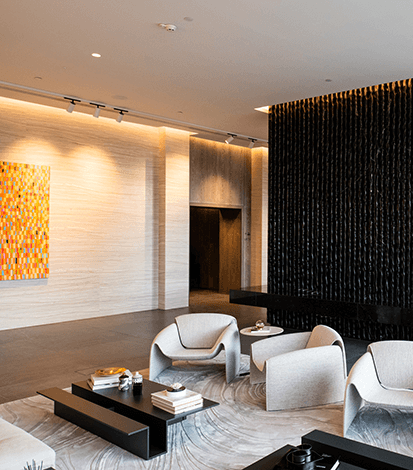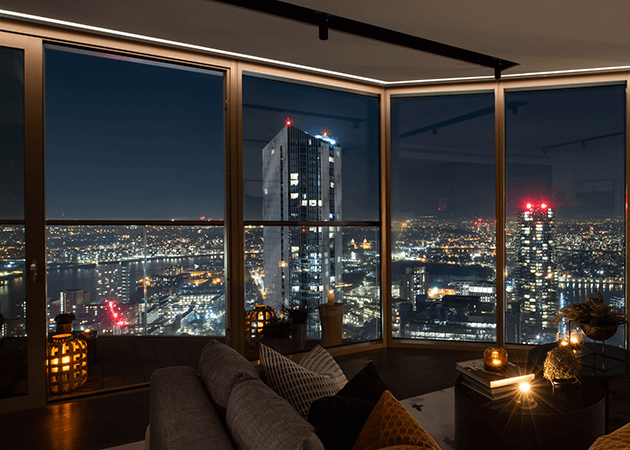 A New Destination for London
For more information about One Park Drive, please download and browse through our host brochure and typologies brochure or enquire now.
Apartment Finder
All
One Park Drive
10 Park Drive
8 Harbord Square
All
1 Bedroom
2 Bedrooms
3 Bedrooms
Studio
Loft
Penthouse
All
£500k to £1m
£1m to £2m
> £2 million
You might also be interested in...